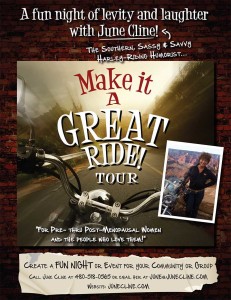 Roswell Georgia was the beginning of June's first world wide tour. And, now she's headed…where ever pre-thur-post menopausal women and the people who love them want her to go.
Southern, Sassy and Savvy June Cline is an inspirational humorist of 28 years. She stumbled in to this career by making her peers and colleagues LOL with her funny, everyday life stories.
June Cline takes her audiences on a fun filled ride with her best, most requested "I'Mo's"…Idiot Moments that she has shared across the US & Canada. June has turned them into side splitting stories – maybe you have lived through one or two yourself. It's all about choosing to make life a great ride, no matter what bumps are in the road.
Bring the Southern, Sassy and Savvy Harley-Riding Humorist, June Cline's "Make It A Great Ride Tour," to your event or community. Email: June (at sign) junecline (dot) com or call 480-518-0565.
A portion of  the proceeds stays in your community with the charity of your choice.