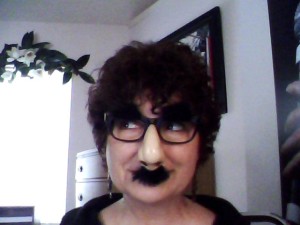 I bounced into the tire store with one mission on my mind. Tires. My funky, kooky sunglasses were so natural to me, I didn't even remember they were on my face much less that they created a cause for pause. Take a moment now to reflect on actions, ways, or items that make you unique, or a "titch" out of the ordinary? If none come to mind, we need to talk. What will earn you recognition, respect and reward, or the three 'R's" as I call them?  I discovered those three R's can be the return on investment (ROI), experienced when causing someone else to laugh out loud (LOL). Let me explain.
Those plastic sunglasses (not pictured here) were fun giveaways for attendees to my "ROI of LOL Workshop," where I help "Boomer" Business Women understand the importance and power of initiating laughter for a return on investment. I believe if  'they', your peeps, are not laughing with you, they may be laughing at you. If you are not skilled at leading the way to laughter, you could be hurting and not helping both your peeps and your bottom line. Harsh, you say? Sure there are times when laughter is not appropriate. What determines appropriateness is relevance and who pays by being the butt of the joke. Is the joke pointed out or is it pointed in? Are you, or 'they,' being laughed with or laughed at? Answers to these questions and more are content clearly defined in the workshop along with who will and who won't wear wacky sunglasses on their head. Some of you just breathed a sigh of relief, didn't you?
What made these cheap, simple, plastic, cobalt blue framed sunglasses unique and gained me recognition, respect and reward
was that both of the round lens had it's own individual bright yellow protruding plastic visor. Again, not that
wild, but wacky enough that the haggard clerk at the counter not only took note, but
began to laugh out loud (LOL). "I love it,' he said. "Where did you find those,'" he
laughingly asked. I told him, as we bantered back an forth about the power of having fun
with customers, colleagues and kin folk.
He was a believer but confessed it had not been a day of levity and laughter with any of
the above. I said, "Here, take these," as I handed him my fun funky sunglasses.
"Really," he asked his voice raised with glee. "Absolutely," I proclaimed. "It's good to
make others feel special even if it is with plastic." You'da thought I'd given him gold.
"So what" about the return on investment (ROI) of laughing out loud (LOL)? In this
instance, and unbeknownst to me at that moment, I had leveraged laughter in to cold
hard cash. "I gave you an additional 20% off of your tires (ROI), Ms. Cline. You made me
laugh (LOL) and I needed that today. I have decided to lighten up and to not take things so
seriously the rest of the day. These funny glasses will always serve as a reminder for
me. Thank you, for coming in and changing my day."
Such a simple and innocent act of being playful that had a tremendous effect on
someone else's day and my pocketbook! It's the ROI of LOL. Again, what comes so natural to you that you
don't even see it?   What quirky, fun, natural side of you will make you stand out from the ordinary?
What will earn you the three R's, recognition, respect and reward? Or do we need to talk?